PPSI 18" Trash Pumphead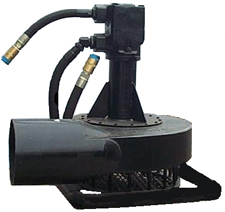 The PPSI 18" Trash pumphead is driven by a 1000 series Powerunit.
The trash pumps are capable of pumping large quantities of water containing foreign materials such as sticks, weeds, mud and other debris at relatively high head. Since these are submersed in the water they do not require priming. We estimate that 75% of problems with centrifugal pumps is getting the pump primed.
Due to the unique design of the pumphead it allows the shaft, bearings, seal, to be constantly immersed in the lubricating hydraulic oil. Allowing continuos operation in a dry type condition.
Pumphead Specifications
Size: 18"
Shere: 3 ½"
Height : 43"
Width : 37"
Weight : 985 lbs.
Hydraulic Motor : Vane Type
Hose Connections : Quick Disconnect
H.P. Hose 1 1/4" 100R2
Return Hose 1 1/2" 100R2
Bearing Carrier : C.S. ASTM A36
Bearings : Ball Type
Pump Shaft : Stainless Steel
Seal Holder : Bronze
Seal : Mechanical Carbon Ceramic & Stainless
Flinger : C.S. ASTM A36
Impeller : Semi Open Three Blade
Pump Volute : C.S. ASTM A36
Oil Cooler : C.S. ASTM A36


'
&copy 2004-2023 All rights reserved.